A dream of being a waitress does not mean you'll start working at a restaurant or for a catering service soon! But it sure is closely related to serving other people.
Then could the subconscious be giving you a heads-up about a service you'll soon take up in exchange for a meager sum?
Let's find out!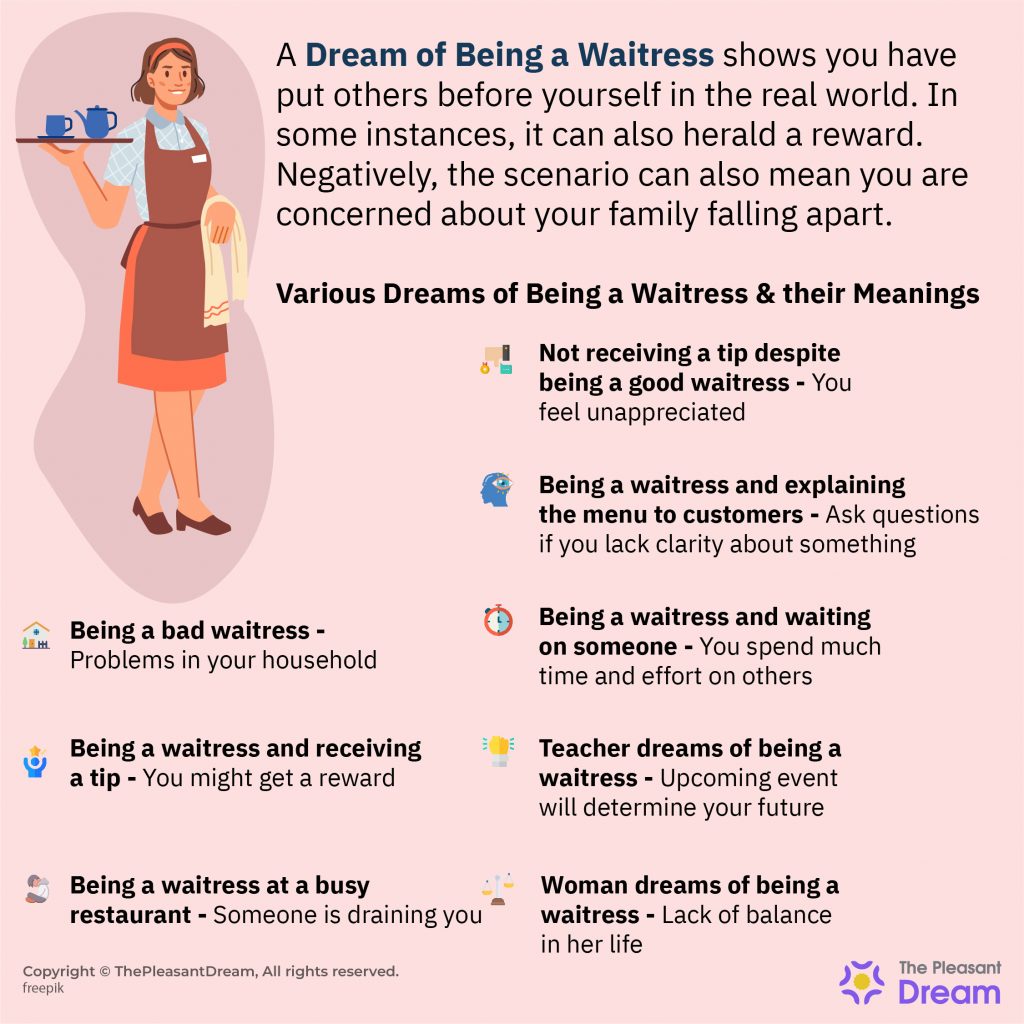 ---
What Does It Mean To Dream Of Being A Waitress?
SUMMARY
The dream shows you have prioritized others while neglecting yourself. Also, the dream can be a projection of the stress and anxiety you are currently experiencing regarding your family issues. Positively, the dream can be a harbinger of a reward for your efforts.
Generally, the dream is a sign that you have prioritized others' wants and needs before your own. You are too engrossed in catering to others that you have no time for yourself. But there's more –
Do you volunteer to help others with small tasks despite having too much on your plate? If you do, the dream indeed has an important message for you. Most likely, you'll need to muster courage and stop others from walking all over you.
From another perspective, such scenarios are a sign that you feel underappreciated.
Being a waitress also indicates that you are quick enough to spot opportunities and make the best use of matters others consider trivial or beneath their level.
Also, the dream projects your love for independence and self-reliance. You have no desire to depend on others and always try your best to handle your own problems – even though that means doing something you've never done before.
---
Spiritual Meaning Of Being A Waitress In A Dream
On a spiritual level, the dream is a projection of how you do your best, sometimes even going overboard, to cater to the needs of other people.
It's a great thing to help those in need but make sure you aren't being taken advantage of.
---
Waitress In Dreams : Different Scenarios & Their Interpretations
We have included some of the most common scenarios associated with being a waitress. Check them out!
To dream about being a waitress and waiting on someone
The plot says you invest too much of your time and effort unnecessarily catering to the whims and requests of other people to such an extent that you have even forgotten to take care of yourself.
Try to recall if another person was present and clearly visible in the dream. If yes, that figure might stand for someone who's sucking the energy and time out of you in the waking world.
On the flip side, if you dream about waiting on someone who is barely visible, that is a sign that you are your problem.
According to the scenario, you have the habit of rushing to people and catering to their needs without even being told or asked to.
A dream about being a waitress and getting trained
If you experience the above scenario you might be compelled to do something for someone against your wishes.
From another perspective, the dream denotes you will be pressured to come to a decision about a complicated situation.
However urgent it seems, do not forget the pros and cons before making a final call. Because according to the plot, you'll not be able to change your decision later.
A woman dreams of being a waitress
For a woman, the dream symbolizes a lack of balance in her life.
The same interpretation applies if you are an expectant mother.
Dreaming that you enjoy being a waitress and serving others
This is a sign that you take pride in your work.
The same meaning holds if a customer or a staff compliments you for your excellent skills.
Being a waitress and receiving a tip
Receiving a tip for waiting on someone is a good sign. Expect some sort of reward coming your way. This could be an appraisal, a hike in salary, a bonus, or even an unexpected promotion.
If you aren't a working professional, your parents, siblings, or even lover might decide to surprise you with a gift for one of your great deeds.
Alternatively, you could be feeling like a recognition, bonus, or some sort of reward is long due.
Being a bad waitress
The plot shows you are currently facing an unfamiliar problem and have no idea about how to resolve or even approach it.
Sometimes, such types of dreams show you are on a quest to figure out who you really are and what the purpose behind your existence is.
On the downside, the dream symbolizes poor family dynamics. It could be that you are concerned about your family members getting more and more distant from each other day by day.
However, some dream books associate the scenario with positive changes in your life.
Being a waitress and explaining the menu to customers
If there's something you need clarity about, do not hesitate to ask questions, especially if it's related to important matters that could land you in trouble should anything go wrong.
---
Psychological Meaning Of Being A Waitress
From a psychological point of view, the dream reflects your desire to stand on your own two feet. You have no intention to depend on others – for small as well as huge tasks.
---
Closing Thoughts
Wrapping up, a dream of being a waitress usually shows you are neglecting yourself while trying to cater to others.
On the flip side, you might be in for a pleasant reward for some of your deeds.
Therefore, do not get your hopes too high. Instead, approach the scenario with an open mind without setting any expectations.
If you get dreams about tall man then check its meaning here.
If you get dreams about skyscrapers then check its meaning here.