Some relationships can be truly seasonal. With the start of the summer, people are ready to discard their old partners and are now ready to get into new relationships. This is what last week's Google Trends data revealed.
In this uncuffing season, the team of ThePleasantDream strived to uncover the dating behavior of people across the globe again.
The team used Google Trends and Glimpse data to understand how people's search behavior varies with the change in seasons.
It was found that the search queries for 'flirting dream meaning' and 'proposal dream meaning' are trending in May 2023.
---
An exponential rise in the "flirting dreams" by 305%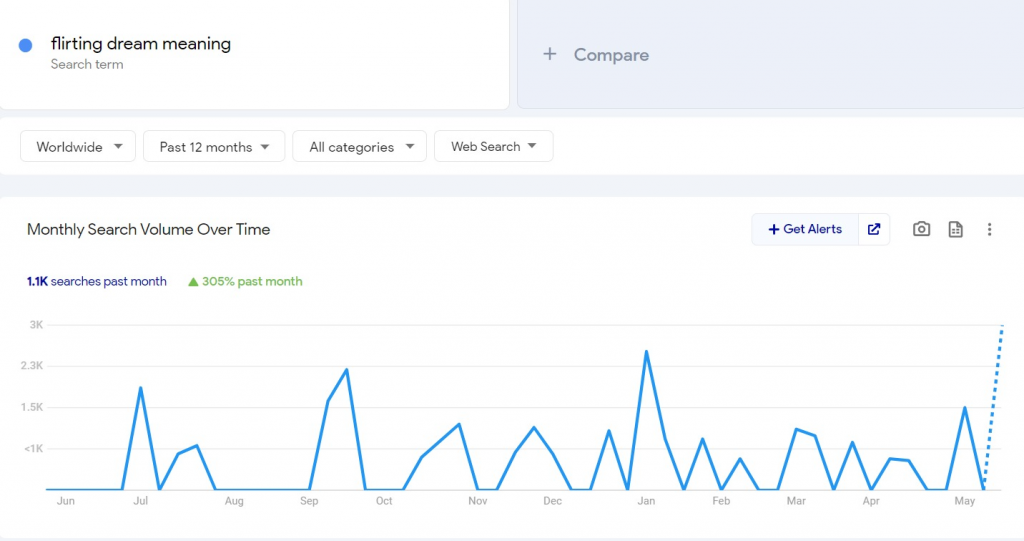 The search query "flirting dreams" peaked in May over a 12-month period
As per the above data, the Google and Glimpse graph shows an upward rise for the search query 'flirting dreams.'
Summer is usually when people are more physically active—leading to more outdoorsy activities and meeting new people. As new bonds and new attractions simmer, flirting is in the air.
In April 2023, there were <1K searches for 'flirting dreams.' In May, there was a 305% rise in this search query compared to April.
---
Spike in "proposal dream meaning" search by 194% in May 2023
ThePleasantDream team gathered insights through Google Trends and Glimpse to know the search volume of dreams surrounding romantic proposals.
As a result, it was witnessed that there has been a sudden rise in the month of May, as per the data below.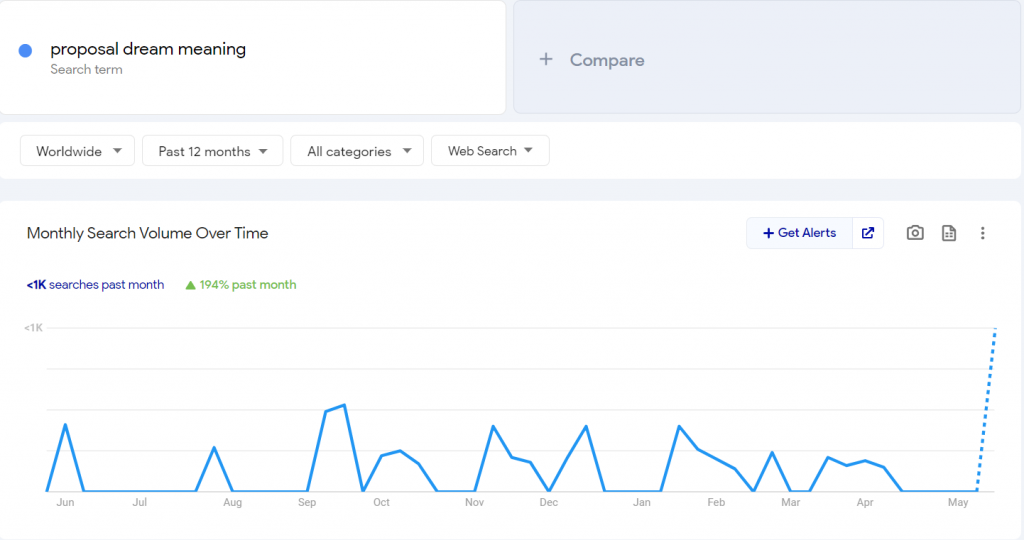 Search query "proposal dream meaning" peaked in May over a 12-month period
In April, the worldwide search volume for "proposal dream meaning" was <1K, which increased by 194%.
Such a tremendous hike as compared to April 2023 indicates that people are trying their luck and want to form romantic bonds with new people.
---
Expert's opinion
Dr. Nereida Gonzalez-Berrios, MD, reviewer and certified psychiatrist of ThePleasantDream, commented, "Each of us experiences dreams, which are a mysterious aspect of human existence.
Most of us think our subconscious thoughts and emotions about what is happening in our lives are reflected in our dreams."
She added, "Summer is when people wish to move out of these houses and explore new places and people. This is why they wish to get involved in new relationships, casual dating, and flings.
Due to the fact that people want to be more socially active, there is a rise in flirting and proposal dreams. Dreams about new relationships are nothing but a reflection of your reality."