A dream of airplane is an exceedingly symbolic vision as it recounts the dreamer's overall life journey – from career to love and relationships to the spiritual realm.
On average, these dreams bring positive messages. Nevertheless, keep your mind open as dream interpretations are subjective and vary from one dreamer to another.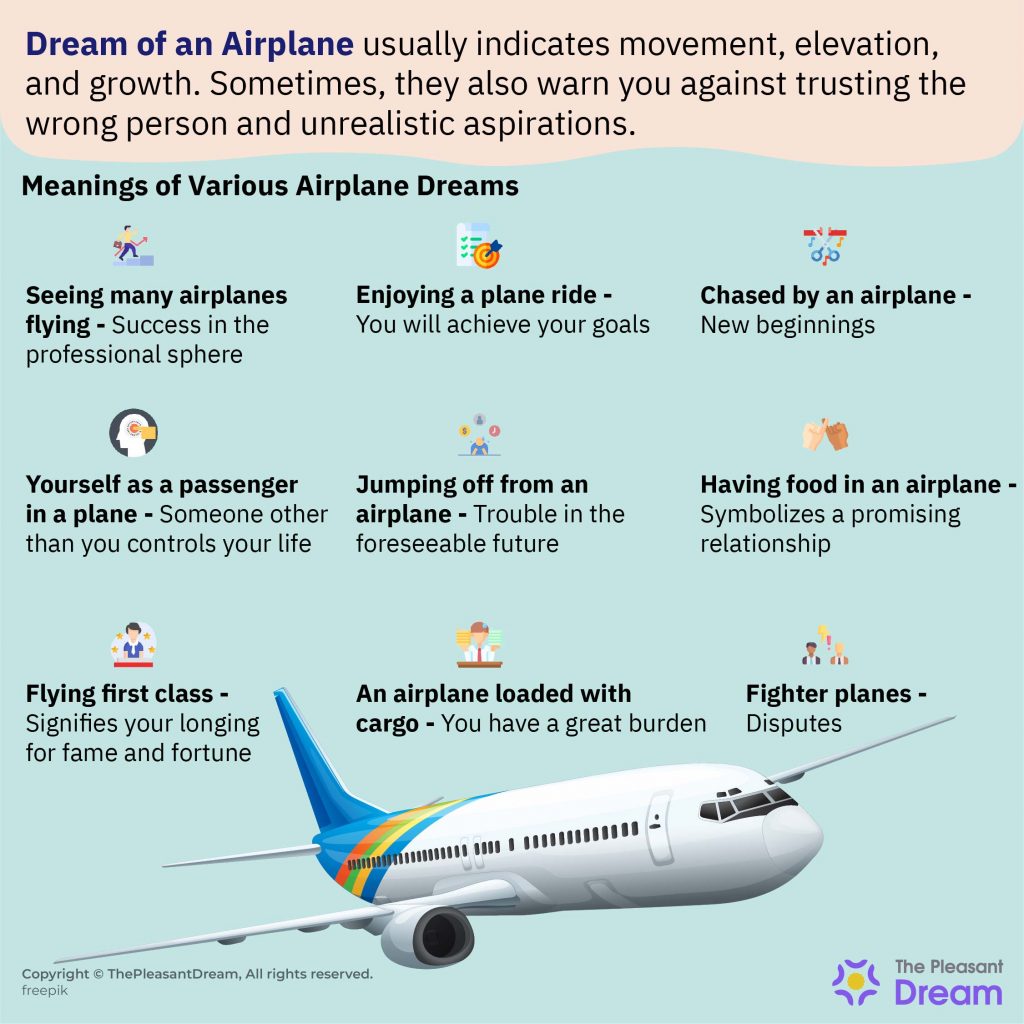 ---
What Does An Airplane Mean In A Dream?
SUMMARY
An airplane in dreams stands for movement and elevation, power, abundance, and success. But sometimes, it may also stand for jealousy, failures, and even repressed sexual desires.
In other cases, it could be warning you to make adjustments and turn your unrealistic life goals into something doable.
Generally, airplane dreams are positive and foretell pleasant happenings. But if your overall experience within the dream plot was unpleasant, you may prepare yourself for problems ahead.
Do you feel that your life and career are stuck? If you relate to the situation, expect things to get moving. The problems that once obstructed your path would probably be gone, and there will finally be progress.
Dreaming of a flying plane or dreaming of yourself inside one implies you will overcome your current obstacles. Moreover, you will soon rise to prominence.
Just as airplanes soar high up in the expanse of the sky, this dream could be a sign that you have the potential and the drive to soar high above others. Besides, these dreams often encourage you to let go of negative and demotivating thoughts.
The dream may highlight the need to be more aware of people, situations, and events in your life. If you had been assuming matters based only on your perspective, the dream of an airplane could be suggesting you look at it from a wider lens.
Sometimes, the image surfaces in your dreams as a warning. That is likely if you feel someone is controlling your life or is manipulating you. This interpretation holds if you dream of yourself as a passenger in a plane and you get skeptical of the trust you have put in the pilot.
It could also stand for your hopes and aspirations crashing down.
Analyze your goals and figure out if they sound too outrageous to be true. Note that the dream does not discourage you from thinking big. Rather, saves you from keeping expectations in something that is not likely to happen.
If someone in your circle has accomplished the goals you had planned for yourself, you will most probably see this dream.
Sometimes, airplane dreams symbolize a person you are no longer attached to, an experience or emotions and feelings of the past.
Flying in an aircraft is associated with repressed sexual desires. Additionally, they also signify male sexual organs.
Such dreams could also be your subconscious's way of highlighting your pessimism. Your negative mindset and perspective often, though not always, overshadows matters to such a point that you leave no room to look at them from a better viewpoint.
---
Spiritual Meaning/ Biblical Meaning of Airplanes In Dreams
Spiritually, airplane dreams stand for your life journey – concerning your career, social circle, experience, relationships, and emotions.
---
Airplane Dream Meaning : Various Dream Scenarios
Let's look at some of the most commonly encountered dream plots associated with airplanes.
Dreams of flying a plane
The dream symbol is self-explanatory. You are your life's pilot and are in complete control of your life.
It reflects your decision-making ability and power. It could also mean you must strive for a better or different perspective to solve your problems.
Seeing an airplane in a dream
Before you start your dream interpretation, recall if it was flying overhead. In that case, it reflects your enthusiasm for the changes that will soon take place.
On the flip side, it may represent your frustration. Maybe you want to excel in life, be an achiever, but at the moment, you are unable to, and that makes you anxious as you think you are running out of time.
Several planes in the sky
Generally, such a dream shows success in the professional sphere.
However, it has a different meaning for male dreamers. If a man dreams of many airplanes, it foretells a major problem caused by his unhealthy obsession and dedication to women.
Getting off an airplane in a dream
Whether it was you or other people that got off the airplane, it is a positive sign. Around this time, you would receive heaps of support, particularly from your family. It would be a stress-free period of your life.
Waiting for a plane
You are likely to encounter domineering women in your life.
Boarding an airplane
It signifies that you are ready for changes in your life. Regardless of where the plane takes you, the journey is symbolic as it implies an ending and eventually a fresh start.
On the other hand, the dream relates to the need for you to find peace and happiness.
Airplane flying low
The dream indicates the need for you to get more serious with life and matters. Saying something and acting on it are two different things. Your subconscious mind encourages you to be more accountable for your words and actions.
Falling from an airplane
The dream highlights the need for you to put an end to something. It could be a career or a relationship going nowhere.
Besides, if your skepticism overrules your confidence, you might want to lower it to some extent, as the dream suggests.
An airplane taking off
Here, the plane is representative of an idea you had been toying with for a long time. The scenario indicates that the time is ripe for the execution of the idea.
There is another interpretation of this dream. Do you feel overwhelmed or burned out by responsibilities? The dream suggests you give yourself a break.
You could also encounter this dream, if someone is playing an unhealthy role in your life. So, the scenario is an indication that you must seek freedom and independence.
Alternatively, it also symbolizes a situation in your personal life – something you have no control over, something you couldn't stop, even if you want to.
Lastly, it also stands for financial difficulties.
An airplane landing in your dream
It denotes the completion of a cycle. Perhaps you have signed a big project with a venture. You are also likely to dream of the same if you successfully pulled off a task that seemed impossible to accomplish earlier.
It could also mean you would soon reap the benefits of your hard work. Take note that you still need to work as hard as you have always done.
On the flip side, if an aircraft lands suddenly after flying smoothly, it implies that a situation would unexpectedly go out of hand.
An empty airplane
It reflects your real-life scenario. Since the spectacle took place inside an airplane, miles above the ground, it signifies you have managed to reach an elevated state in your waking life.
According to the plot, you are much above your social circle. But since you had none to interact with, within the dream, it is an indication that you are unhappy and lonely in your waking life, despite your high status and ways of living.
Flying in an aircraft with a friend or friends
The dream advises you to be careful while choosing your friends. Not every friend wishes you well.
Being on a plane with your partner
This dream has several interpretations. In the first instance, it is a premonition of an upcoming trip the two of you will take together soon. On the other hand, it could also mean taking your relationship to the next level.
Being trapped inside an aircraft
Does anything confines and suffocates you in your real life? According to the scenario, something does restrict you though you aren't aware of it.
Trying to catch a plane
You are likely to see such scenarios if you are trying to shift your goals and aspirations.
Missing a flight
The first interpretation is that you feel out of sync with the world around you. So, the dream could be sending you signals to reevaluate your life.
In other cases, it may mean something or someone holds you back from going out and exploring the world.
Additionally, it may also mean you have overlooked some rare opportunities. Try looking around and find out what you have ignored. See if you can undo the damage.
Lastly, it could also signify a fear of failure.
An airplane is hijacked
It means you feel disturbed and distracted by negative feelings and emotions of the past. It could also mean you need to address an issue.
A burning airplane
The scenario is concerning your repressed emotions, which could be either positive or negative. The point is, you have been hiding them within you for the longest time possible, and some circumstances will trigger you to spill it all out.
It could also be a warning. One or a few of your plans stands the risk of falling apart unexpectedly.
Recall how you felt within the dream – if the burning or exploding airplane did not terrify you, the explosion stands for passion. You might look forward to an exciting new relationship to sweep you off your feet.
Airplane crash
Often, such dream scenarios imply that your aspirations are far too high and ambitious than what you can achieve in your waking life.
However, they might also represent your lack of confidence.
Sometimes, these dreams are also associated with loss of power and authority in certain aspects of your life especially if your plan that was progressing well and smoothly collapses all of a sudden.
Losing an airline ticket
For some reason, you would face trouble accepting an upcoming project shortly.
Having a bomb in an airplane
Out of the blue, someone from the past will surface and occupy your mind. It could be an ex-lover you haven't thought of in ages.
As indicated in the plot, the feelings and emotions that accompany the memories would persist.
Therefore, your higher self suggests you keep your mind and thoughts engaged in other activities and not let the past emotions take a toll on your mental and emotional state.  
---
Conclusion
That wraps up our article on a dream of an airplane. Many airplane dream scenarios denote and foretell success and growth. However, a lot of other plots hinted at aspects of your life that could be improved.
Therefore, you must dig as deep as you can into the meaning of the dream. Because chances are, something about you is hidden beneath the upper layers.
If you get dreams about Fighter Jets then check its meaning here.